Masse's Pudgy Pugs - Available Pugs Black Pugs For Sale Available Fawn Pugs Female Pug For Sale Available Male Pugs

Available Black Pugs | Available Fawn Pugs | Black Pugs | Fawn Pugs | Available Female Pugs |
Available Male Pugs | Female Pugs For Sale | Male Pugs For Sale | Black Pugs For Sale | Fawn Pugs For Sale
Testimonials
Masse's Pudgy Pugs has been able to cater for a variety of individuals.
We believe that their words speak far louder than any of ours.
---
I have always wanted a pug, but had always been hesitant of buying one due to the uncertainty of dealing with an unknown breeder. I wanted to find a breeder who cared about the breed, and wasn't in this business solely to make money. I began my search online and came across Masse's Pudgy Pugs. My experience with Masse's Pudgy Pugs has been wonderful. From the point of initial contact with Corrina I felt completely comfortable. She answered all my questions and was honest and upfront with the parameters surrounding
the purchase of one of her babies. I was confident that I was getting a quality pug, and that I did! My baby Lexie is amazing! She has a great personality, is great with my 5 year-old son, and as you can see, has made a best friend with my English Bull Dog, Slim. I highly recommend Masse's Pudgy Pugs to anyone who is interested in obtaining a high quality pug!

-Kim Coltey
---

I highly recommend Corrina Masse and Masses Pugs when choosing from whom to buy a Pug. She ensures that you have everything that you need to raise a healthy Pug. I picked up Olive when she was eight weeks old and Corrina made sure that I had everything that I needed and that she answered all of my questions. I could not be happier with my little Pug and would recommend Masses Pugs to anyone!
Good luck,
Eric
---
We are so happy with our pug.He's an active boy with lots of energy and great personality!!!! I didn't know anything about the breed and Corrina informed me and has been very patient teaching and guiding me along the way...THANKS SO MUCH!!!!!! Panna has made our family a much happier one! Corrina's love for pugs is contagious!!
Veronica Bonomie
---
Hi Corrina
I just wanted to write you a note about how much we are loving our new little baby Dodger. He is such a good-natured even tempered little bundle of joy.
I'm glad I waited and did my research to find you - a pug breeder that was committed to breeding puppies that are genuine to the pug breed with only the highest quality standards; that only breeders could accomplish because of a deep love and affection for pugs.
Upon visiting your home and meeting your charming "girls" it is evident that you want only the best for them and their "babies". From the very moment we brought our precious little black pug it was obvious he was well-socialized and his toilet training had been started and he knew what to do. He is very smart and learns quickly. He is always ready with puppy kisses and is happy to see us. His big brother Rudy is coming around and they do play everyday; but I think Rudy knows he's still "King".
I'm already starting to think of when we could get our third pug and was considering maybe a girl; but when we do you will be the first one I will call for a puppy and I know that it may take awhile but it is definitely worth the wait.
I also appreciate the support and advice you are always willing to share with me to raise and maintain our dogs' health and well being. You have a lot of useful practical knowledge and experience that only someone who knows and genuinely loves the breed.
Thank you for allowing us to bring this sweet little guy into our home.
Fondest regards
Patricia Benetatos-Sutch
John Sutch
George and Denise Benetatos& Rudy too!
---
Corrina:
We love our new puppy! You really helped us pick the right puppy for our family and one who would love our kids as much as we do. Thank you for sucha wonderful experience. We are so impressed with your professionalism. The pick up process was seamless and we appreciate how well you took care of Rocky in his early life.
It is challenging going through the house breaking and biting stage, but his overall disposition is one of the sweetest I have ever seen in a puggy.
Sammy and Rocky have an interesting relationship. Rocky tries to engage
Sammy to play fight and many times Sammy just jumps on the couches to get away. Fortunately for him, Rocky can't get up there.....yet.
Thanks again.
Jeffrey Lalloway, Esq.
---
I am THRILLED with my TWO pugs purchased from Corrina! Both pups are beautiful and wonderful companions. Corrina proves that working with a breeder makes the experience and selection process not only easy, but also painless. My daughter and I visited her home and witnessed first hand the love and care she gave the young pups. We were also able to see the parents, which of course gives one an idea of how beautiful the pups will be when grown. I cannot recommend working with her highly enough! Thanks Corrina! I never thought I would be leaving her home with TWO pups, but I am now so happy I did!
Barry
---
"I used to chuckle at people who said they were, say, "golden retriever people" or "yorkie people." Seemed like a dog was a dog. These days however I stand before you a humbled person. A humbled Pug Person to be exact. When I finally decided to get a Pug over the summer I did some research as to which breeder would be right for me but, when it comes to breeders off internet, one can never tell. But with Corrina Massey, one CAN tell. In short, I am now a life long Pug Person and as long as Corrina is doing her thing, a lifelong customer."
Greg Douglass
---
We absolutely love our baby. He is truly a blessing come true. Corrina was great to work with, very knowledgeable and very understanding. She answers every question and we got exactly the puppy we wanted, personaily and everything!
The Coleman Family
---
"I cannot elaborate enough on what a wonderful experience we had in purchasing our Pug from Masses Pudgy Pugs! Everything from the first visit to the pickup was just great. Corrina was always very accommodating when we came to visit our Pug and never made us feel rushed, but let us spend plenty of time bonding and playing. We felt confident from the very beginning that our Pug would be healthy with little chance for hereditary defects. It is obvious that Corrina truly cares about her pups and wants only the best for them and the families they go to! You don't find this same care and concern with ordinary breeders. We couldn't have been happier with the purchase of our new puppy-------THANK YOU MASSES PUDGY PUGS!!!"
Laura and Chris Panichi
---
Dear Corrina,
We are so thankful to have found you. We are head over heels with our new addition to our Black Pug Pack. Cricket is our little terror and our joy. She will be a year old here in Feb. She is healthy, strong, best and worst friend to our other pugs. Meeting Corrina, I knew from the beginning that she was the breeder to go too. Her research and knowledge of the breed was very encouraging. I thought I knew a lot about pugs, after all this was going to be our 4th pug. But quickly made me remember why I leave this to knowledgeable breeders. The experience and confidence that we received from Corrina was of the highest standard. I highly recommend her for your new addition to your family. You can't go wrong. Please feel free to contact if I can answer any further questions.

Vicky Wyman @ [email protected]
---
Dear Corrina,

Thank you so much for all your help and support with Atticus. He was almost completely paper trained when we brought him home and is just a joy to be around. I have no doubt that this is due in large part to the care and love he received while a member of your family. I had never owned a dog before and you were so patient and helpful from the start of our initial conversation. Thank you again for bringing Atticus into my life. I plan to purchase a little fawn girl to be his friend in the future and hope you will still be available.

Kind Regards,
Emily

---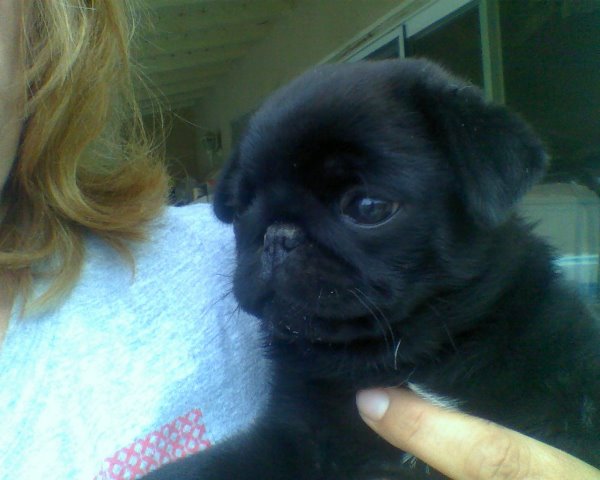 Corrina has been amazing to work with. Instead of an abrupt reply to my email she took the time to phone me directly. She is very knowledgeable about the breed. She attempted to answer every strange and unusual question that my husband and I had. We were very cautious/paranoid of which breeder to choose after several bad experiences. Corrina put us at ease immediately and continues to reply to our many questions (2 months later). She did not hesitate to let us into her home and show us our puppy's parents.
The puppies are brought up in a very loving environment. It is everything a prospective dog owner would want. There was a lot of socialization, lots of playing and love from Corrina and her family. She litter box trains the puppies very young which makes bringing them home much easier. She feeds them a high grade food which we appreciated because we didn't want to transition to another food.
She provides a 2-year health guarantee and recommended Rafael Salvador, a local vet who she has a good relationship with. It's also nice to have a vet nearby who you can trust.

She is always willing to bend over backwards to make her customers happy. We would definitely recommend her to anyone that is looking for a warm, loving pug.

Sincerely,
Brian & Renee Resnik
---
I am very pleased with my experience adopting Lulu from Masses Pudgy Pugs. They were very accommodating and friendly throughout the entire adoption process.

I was able to see Lulu frequently, and their property was clean and well kept at every visit. Lulu was well trained, potty trained and in great spirits when she came home with me. Corrine provided help and assistance though the whole process and in result I now have a happy, healthy and beautiful little puppy, Lulu. She is a great looking pug, getting her was an enjoyable experience, and I would recommend this breeder to anyone.

Sincerely,

Stan
---
Hi Corrina,

It was great speaking with you last week. I've attached a picture taken over the weekend of my Sophia Loren ("Soph") and my mom, her grandma. Soph has brought such joy into my home and heart. I have recommended you as a breeder to countless people. The care you take with your pups and the quality of your pugs are so much higher of a standard than any other dogs/pugs I've ever seen.

Sophia gets constant compliments wherever we go as she is such a PRETTY pug. Also her personality is just so sweet. My mom was actually scared of dogs all her life and now wants to get a pug because she loves Soph so much. Soph is such a happy, playful, lovebug that just wants to be next to you – I swear I don't think I've ever heard her growl and she rarely ever barks. She will be 2 years old in October and if I decide to get a puppy pug playmate for her, I'll definitely always go to you. Thank you so much for everything that you do!

Take care, Lisa
---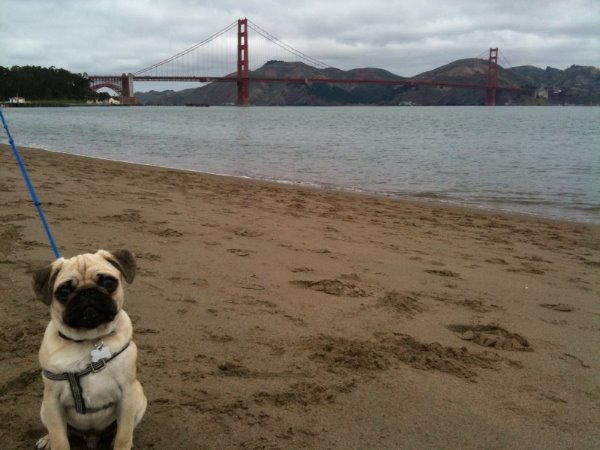 My boyfriend and I got our pug puppy, Ollie, from Corrina at Masses Pudgy Pugs in June of 2010. We're from San Francisco and didn't have many breeder or adoption options locally so I did a fair amount of research online before deciding to go with Masses Pudgy Pugs. I was impressed by their website, the information they provided there, and even more impressed with Corrina. From the start, she exhibited a genuine love for her pugs--so you knew that you were getting them from a caring breeder and pug owner and not a puppy mill. Corrina made herself available to us by phone and email and did a great job answering all of our questions (we had a TON since this was our first dog). She sent pictures when we requested them and actually volunteered pictures of the area where she raises the pugs in her home (nice and clean). She offered information on the other pugs she had available, their personality types, parents, etc. She listened to what we had to say about our lifestyle and the type of dog we sought. In the end, she did a great job suggesting a pug for us whose personality matched ours perfectly.
Her prices were comparable to other breeders in the area--if not a bit lower--and yet her pugs seemed a lot cuter. She kept us posted about every little detail or issue that could possibly effect our decision, including miscellaneous comments from the vet. She did a lot of leg work to find a direct flight to San Francisco and put a great deal of time and effort into the whole process. Ollie flew on a direct flight to San Francisco and arrived in a clean and spacious crate with a bag of food and a toy and his vaccination records. He was wearing a cute little bandanna collar with his name on it.
The most amazing thing is that he came partially litter trained, which was been a God send for us living in a city. He's been an absolute dream dog since we got him--happy and adorable and a perfect match for us. He's growing fast and looks great. We're regularly stopped by people on the street with compliments! He was obviously well loved and socialized by Corrina before arriving here as he is not only great with people but other dogs as well.

I am a very satisfied client. If I were to purchase another pug I would definitely go through Corrina and Masses Pudgy Pugs. I've already sent her one referral.
-Jessica (San Francisco)
---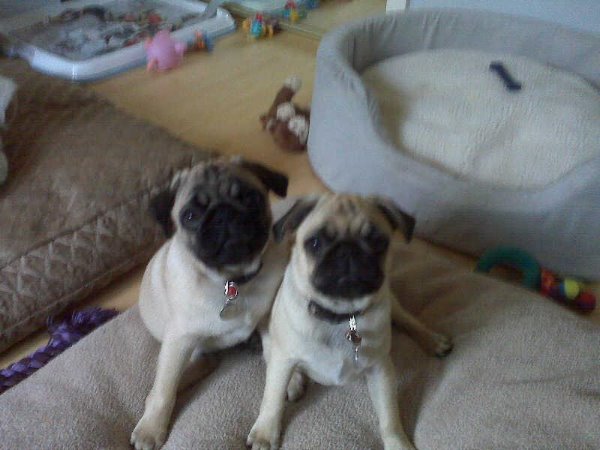 Just having added two wonderful pugs (Beasly and Baily) to my family I couldn't be happier. Before purchasing my dogs I researched various breeders and decided to go with Corrina Massee. This has been one of the best decisions of my life. Once I met with Corrina and the pugs were born I visited them once a week until I could take them home eight weeks later. They were so well cared for and happy go lucky dogs that I just knew I'd made the right decision. Corrina is a warm and loving person as can be witnessed by watching her interact with the dogs in her care. She has a wealth of knowledge about the pug breed and how best to raise them, and her advice has been tremendously beneficial as I take this journey of being a pug owner. Corrina has exceeded all my expectations as she was not only helpful prior to me bringing them home, but has also consistently called to check up on them and see how they are adjusting to their new home life. I would highly recommend Masses Pugs to anyone wanting to own these lovable cuddly dogs. Corrina and her pugs are the best!
Sheila Flaherty
---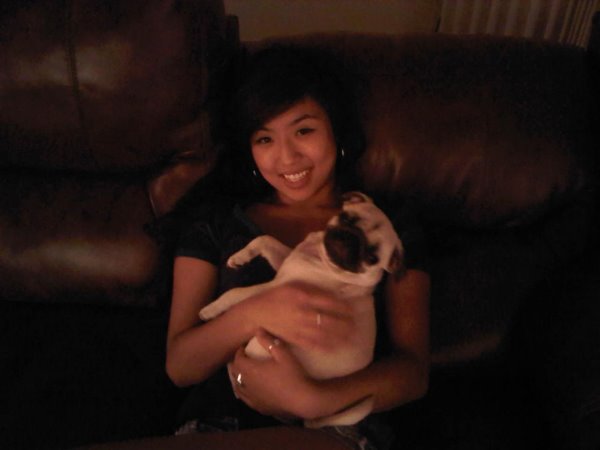 "I cannot express how happy we are to have Chubby as an addition to our family! My boyfriend and I were doing some research locally at first (We're from Houston, Texas) but, we really wanted to invest on a pug that came from a quality breeder. We of course, had to have the best of the best! And that's why we went to Corrina Masse for our puppy. Corrina Masse not only knows what she's doing, but she's a breeder that's passionate about her dogs. Corrina's an amazing people-person; we had emailed and spoken on the phone many times. She has done a wonderful job on keeping me updated along the whole process. Since we lived in Texas, we had our dog shipped to us through Continental Airlines Cargo Services—it was very convenient, safe, and in no way any harm to our pup. My boyfriend and I were amazed on how easy the whole process was. Our little silver-fawn puglet, Chubby, is now a little over 3 months old. He has an amazing personality and loves to just play! All of our friends and family absolutely love him. Van and I always get stopped left and right whenever we go out with our pup because everyone just wants to see and play with him! We have gotten millions of compliments on his beautiful coat and big round eyes. And what was even more delightfully shocking was how easy it was to house-break him! He was already litter-box trained at 8 weeks! Thank you Corrina for our wonderful puppy! We can't even express how happy and satisfied we are!"
-June and Van
---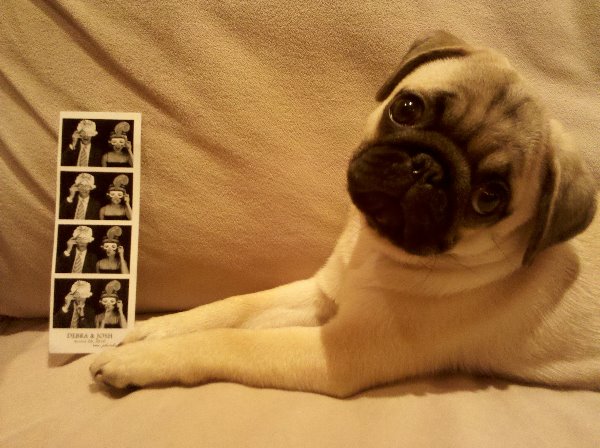 Words can't describe how absolutely in love we are with Dumpling! My boyfriend and I had been planning to get a pug for a long time but were unable to because we lived in a non-pet friendly apartment. When we finally moved into our new condo that allowed pets, we immediately started our search. The search for our very own pug puppy didn't last long as we fortunately met Jessica (Ollie's mom) who, at the time, was patiently awaiting Ollie's arrival. She introduced us to Corrina, and we did not need to look any further! As first-time pug owners, we could not have asked for a better experience. I felt comfortable and informed at all times. Corrina definitely took the time to answer all of my questions and concerns and ultimately helped us choose the right puppy.
We drove down from San Francisco to pick up little Dumpling at the end of July, and after visiting Corrina's home I can attest to the cleanliness of her place and how well kept the pugs are! If I didn't see the dogs in the yard, I would have never guessed she owned a single dog! Our experience with raising Dumpling has been much easier than we anticipated because of the time and care Corrina had obviously put into the puppies before they were given away. Dumpling came partially potty trained and has the best disposition ever. She is never aggressive, never barks, and rarely ever whines. She is so loving!!!
If I were to get another pug, I will, without hesitation, get a Masse's Pudgy Pug again!
Cindy (San Francisco)
---
To anyone searching for a top quality pug breed.....search no more. I have wanted a pug for years but had trouble convincing my husband with all the traveling we do in the military lifestyle. Now that we are nearing retirement, my husband finally surprised me with a pug for my birthday last year. My husband grew up with veterinarians and started a search months before finding Corrina Masse's pugs in Bellflower, CA. He knew what he was looking for. He did not want to end up with a poor quality pug which leads to more health problems. He interviewed Corrina by phone and she passed with flying colors. We went on a surprise road trip to meet and greet "Lollipop". We walked in through the front door and realized that we were in pug heaven. (I think the pugs have more authority than the kids in that house.) Every couch was occupied by the most adorable pugs. We were impressed with their diet, eating only organic brands. Her backyard had lots of room for the pugs to run and play. Corrina does an amazing job of weaning the babies off their mothers and helping the pugs potty-train. In the 8 weeks remaining until pick-up, Corrina was like an adoptive mom, sending us photos and updates of Lollipop. Our pug was almost completely potty-trained when we brought her home. Corrina had great techniques and resources to pass onto us. Since one year ago, wherever we go, people always comment on what a "good-looking" pug we have. Lollipop has such a sweet personality. We have a dog park near our neighborhood and the other dogs LOVE to play with Lollipop. We have had neighbors knock on our door to ask if they can take Lollipop for a walk or to the park to play or find out when we'll be outside so they can send their dogs out at the same time. Lollipop has been such a blessing to our family. She gets along well with all kids. We have even started to contemplate adding 1-2 more pugs to our household. The Masse pugs are addictive! You'll want more and more. We pass out Corrina's contact information to anyone looking for a dog.

2 photos of Lollipop attached wearing green polka-dot dress with a pink bow.
Vanessa Donaldson
---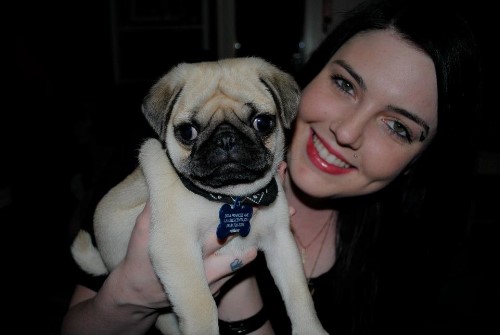 Hi Corrina! I am so sorry it has taken me so long to send this but below is my testimonial :] Dino is doing great, and we are so happy with the way he has bonded so well with our chihuahua, they are like brothers! He has such a sweet and sassy personality, and we couldn't be happier with him! Thank you so much for everything! I also attached a couple pictures of Dino I thought were the cutest

We could not be happier with our baby boy Dino. He is beautiful, fun, playful, sweet, intelligent, loving and sassy all in one precious pudgy little pug! For anyone looking for a high quality beautifully bred pug, Corrina Masse is the one to go to. She was so wonderful in making sure we had everything we needed for our new puppy including tons of information on the pug breed. I found Corrina's website online and was immediately drawn to it because of the obvious love and care she has for her dogs. The whole process of getting Dino was so smooth and comfortable, and let me just say these are the most beautiful pugs you will ever see! Dino is so chubby and full of wrinkles, he is perfect! Dino also adapted very well to our house and to our chihuahua Mickey. They are so cute together, always playing with each other or sleeping together. We are so grateful to Corrina for giving us this wonderful dog, we really could not be more satisfied with the whole process and our beautiful little angel! :]
-Sarah and Joe
---
For my first pugs, I got them from a out-of-state breeder based on photos, phone and email communication. I love both of these dogs but both had many health problems from the start -- one had serious joint and digestion problems and sadly passed away before she was five years old. Missing my second pug so much I quickly sought out another breeder and found Masse's Pugs was close by in the Los Angeles area. All the Masse pugs were obviously all "well bred" in a loving pug-filled environment -- classic pug features with beautiful coats and they are fun and friendly with good temperament. It's also a pleasure dealing with Corina since she knows the breed very well and takes great and loving care in breeding their pugs and placing them in good homes either locally or across the country.
I've had Kati for almost three years and every year her annual check up is always "prefect health". Kati is always in good health, never gets sick -- wow what a big contrast to my other pugs I bought from another breeder. I am ready for another pug and definitely will be from Masse's, I will never buy another pug from other breeder.
I also appreciate Corina's advice and support for raising and maintaining a good healthy pug. Corina's always very responsive to all my calls even after almost 3 years since I bought Kati from her. Thank you so so so so so much for the joy you have given me thru Kati!
Every breeder always said they have two year guarantee, but once you have them you will never give them up no matter what since you are already attached to them, so to me it's very important to get your pug from a well known breeder like Masse's. Masse's -- the Perfect Place for Pugs!

Bernadette Benjamin

---
After losing my Chloe, my 13-year old pug, my "Grrrfriend," quite suddenly I was beyond consoling, crying all night.
The next day I called Corrina at Masses Pudgy Pugs, I just needed to hold a pug. Corrina explained that it wasn't a good day for a visit as she had a vet visit scheduled. I accepted it wasn't going to happen...and then Corrina called me back later that afternoon having felt my pain at the loss.
I explained that while Jim and I knew what we had to do to ease our Chloe's pain, we had no idea how to ease our own.
Corrina introduced us to Toodles a few days later. This wonderful little fur ball has been added to our family helping us heal the heart that loved Chloe so. Big task for such a little fellow.
Toodles is 9 weeks old and so absolutely perfect in disposition and conformation there is absolutely no way he was going to let us be sad, the little clown! We believe our Chloe is helping us teach Toodles everyday.
Thank you Corrina and Masses Pudgy Pugs for our Toodles and for the ultimate in Heart Rehab Therapy - our baby boy Toodles.
Thank Heavens for puppy breath kisses,
Shari and Jim Donoho
---
Call us today at 562-972-7273 or fill out our online contact form.